by Ilsa J. Bick
It could happen tomorrow . . .
An electromagnetic pulse flashes across the sky, destroying every electronic device, wiping out every computerized system, and killing billions.
Alex hiked into the woods to say good-bye to her dead parents and her personal demons. Now desperate to find out what happened after the pulse crushes her to the ground, Alex meets up with Tom—a young soldier—and Ellie, a girl whose grandfather was killed by the EMP.
For this improvised family and the others who are spared, it's now a question of who can be trusted and who is no longer human. –from the book jacket
Why I picked it up: I needed something to listen to during my hour-long commute to and from the library and picked this title somewhat at random but also based on a trusted friend's Goodreads review.
Why I finished it:  It was really hard to put down, or stop listening to rather. Each chapter ends with a cliff-hanger that propels you into the next chapter, and the next, and the next. This is one that I would really encourage listening to as the reader does an amazing job building the tension and making the intense moments so gripping. And talk about disgusting… Ashes (and Shadows, the second book in the trilogy) has an extremely high gore factor that had me shivering in disgust and saying "Ewww!" more than a few times. The story takes a shift a little more than half-way through the book but, now that I'm deep into Shadows, I can see how that shift works to expand the story into something more than wilderness and zombie survival. Ashes ends with a cliff-hanger that will have you quickly reaching for Shadows to find out what happens next and I suspect Shadows will end the same way. Thankfully Monsters, the final book in the trilogy, should be published in September so the wait to complete the series won't be too long.
I'd give it to: Readers (with strong stomachs) who enjoy gory, fast-paced, action-packed, post-apocalyptic, zombie stories.    
I'd give it: 4 stars
Reviewed by: Trish (Schimelpfenig Library)
---
Warm Bodies
by Isaac Marion
R is dead. He's a zombie, so he has no feelings or memories – only vague dreams, and the occasional desire to listen to Frank Sinatra.  Then he meets Julie and, strangely, he'd rather protect her than eat her. But how do you tell a girl you love her when you can't manage more than one syllable at a time?
Why I picked it up: Zombies! Funny zombies! In love! Need I say more?
Why I finished it: This had the gore and grit of a good zombie novel, but was married with a great sense of humor. What do you do when you're in love with someone you also want to eat? And how do you protect this person when your fellow monsters don't have the same motivation to take her off the dinner menu?  (Actually, that sounds a lot like Twilight, but I promise this is different! For one, R is dead and rotting, not sparkly and sweet-smelling.)
I'd give it to: Anyone who liked the movies Sean of the Dead and Zombieland. Coincidentally (or not), a movie version of Warm Bodies is scheduled for release on  February 1st.
I'd give it: 4 stars
Reviewed by: Cecily (Davis Library)
---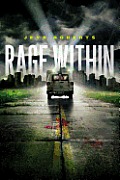 If you enjoyed reading Jeyn Roberts first book in this series, Dark Inside, you will find her second book, Rage Within even more exciting.  When an earthquake destroys half the population of the world and everything you have loved and enjoyed is taken away you start a new phase in life called survival.  We will once again meet Aries, Clementine, Michael, Mason and Daniel.  They have each come from different walks in life but have stayed together to make some sense of the chaos that surround them.  They spend their days and nights hidden but always on the lookout and ready to run to a safer destination.  They take turns searching for food and other supplies as well as meeting a few stragglers on the road.  The Baggers are their enemies and they are defined as evil.  This evil rises up in their souls due to their life choices in the past.  The Baggers have decided to create a world of their own by offering protection which is often disguised as murder.  How long can Aries, Michael, Clementine, Mason, Daniel and the rest of  this fearful group keep hiding from the Baggers?  How can they survive in a world that is no longer theirs.
Why I picked it up:  I must admit I had not read the first book before I started reading this one.  I loved the excitement and the twists and turns in Rage Within so I read the first book in this series as well .  I found both books to be fun and entertaining.  I have a feeling there will be a third book in this series.
Why I finished it:  This book was hard to put down so it was not a problem to finish this series.
I'd give it to: If you enjoy a dystopian novel you will enjoy this book.  I would recommend you to read the first book in the series and then you will enjoy Rage Within a bit more.
I'd give it:
five stars
Reviewed by:  spinatale
---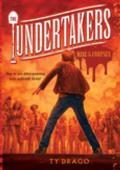 Title:  The Undertakers: Rise of the Corpses
Author/Artist:  Ty Drago
Exerpt:  "I watched helplessly as Booth placed one slimy, maggot-riddled hand on her shoulder.  Clutching the syringe in the other fist, he jabbed its needle into the base of Helen's neck with cruel force.  She screamed, "Leave her alone!"  I cried, pulling uselessly at my bonds.  The corpse ignored me, drawing the now-empty syringe out of the girl.  Then he turned her towards me.  Helene's face contorted with pain.  Her whole body shuddered.  I felt awful watching her, but there was nothing I could do." – page 415
Summary:  Will Ritter had a normal life until he turned twelve.  That's when he started seeing them.  The corpses:  Nasty otherworldly creatures that reanimate the dead and use them for their own purposes, he doubted his sanity.  But, when he meets a group of rebel teens that used to be led by his dead father, Karl Ritter, he knows they're real and planning on invading the earth.  As an undertaker is it his job to fight for humanity and keep his family and the planet safe from the walking dead?  Does he have the skills and strength to fight the corpses?  Will he survive?  How can you kill something that's already dead?
Why I picked it up:  I picked up this book because it is filled with action, adventure, horror, and mystery.  The plot and setting give just the right touch to make it an intriguing book of wonders.
Why I finished it:  I finished this book because every chapter had me hooked.  It's descriptive and keeps the reader wanting more.
I'd give it to:  Any reader who loves a good zombie thriller that leaves you begging for more.
Star rating:  5 stars
Reviewer:  Ceazar- Harrington Public Library Teen
---
Title: The Boy Who Couldn't Die
Author:William Sleator
Excerpt: "Those are private voodoo ceremonies, run by houngans. Houngans are voodoo priests who don't practice black magic. When they beat those drums, some people get possessed by spirits-I've seen it". -page 57

About:  Ken's best friend dies in a plane crash. In order to deal with his loss he decides to see a witch doctor about making him invincible against death in exchange for 50 dollars. In return, he becomes a living zombie that losses his free will and must carry out heinous crimes at the request of the witch doctor.

Why I picked it up: A cheesy book about Voodoo, magic, zombies, possession, and all within 184 pages. How could one not pick this book up? 
Why I finished it: It was like reading a book from the Goosebumps series but, for young adults. It was formulaic, trite, and made blanketed generalizations about mysticism. I probably would not read this book again but, am glad I gave it a chance.
I'd give it to: Do you like quick reads about the undead that ties up nicely and includes a moral lesson? If so, this book is for you!
Star Rating:
Reviewer: Audrey- Harrington Library
---
  The Forest of Hands & Teeth
By. Carrie Ryan
A zombie plague has wiped out the majority of mankind. Therefore, the survivors must live in a gated community that lacks all conventions of modern society. The only thing separating the village from the undead or, "unconsecrated" zombies is a wire fence. Mary is a 15-year-old girl who lives in the village. She dreams of a life outside of its confines and longs to find the ocean and evidence of high rise building, which seem like nothing more than folklore her mother passed down to her before she joined the rankings of the unconsecrated. The village is shrouded in secrecy, it sticks to traditional values and lifestyles, is governed by an organization of women known as the Sisterhood and, is protected by a group of men called the Guardians. When a zombie girl that is stealthier and more blood thirsty than any other infiltrates the community only a handful of survivors are left alive. Mary and her pack of survivors must set out on their own in search of refuge, another village or, as Mary dreams, the ocean.
Why I picked it up: I was reading a lot of zombie lit in preparation for the upcoming ZombiePalooza at Harrington and it looked good.
Why I finished it: I could not put this book down! Or, when I did have to put it down to sleep I would have terrifying nightmares of zombies clawing at the gate! The main character Mary is selfish, funny, complicate, and hangs on the hinges of being either entirably relatable or insufferable. So, a real live girl!
I'd give it to: I would give it to you or, any girl that loves a good horror read.
I'd give it: 5 stars
Reviewed by: Audrey (Harrington Library)
---
compiled by Justine Larbalestier and Holly Black
Zombies versus unicorns…which one is the better mythical monster/cuddly creature?  In this collection, some of the best YA authors try to answer that question. There are 12 stories, 6 dedicated to each of the two creatures.  Authors Black and Larbalestier give a snarky running commentary in between tales, debating what the score is and which imaginary beast will ultimately triumph.
Why I picked it up:  Why? Why??? Did I mention Zombies vs. Unicorns? If you need to ask why, this probably isn't the book for you.  The title alone had me hooked, and with stories contributed by authors like Garth Nix, Carrie Ryan, Maureen Johnson, Scott Westerfeld and Cassandra Clare, it was guaranteed to be awesome.  Plus, one of the stories is titled "The Care and Feeding of Your Baby Killer Unicorn."
Why I finished it: I love short story collections because you can sit down and gobble up one story in less than an hour.  When you come back to it next, it's a new story and a new author's voice.  And, Meg Cabot's unicorn in "Princess Prettypants" actually farts rainbows.
I'd give it to: My cousins Melissa and Cynthia who love random premises like this one, or to anyone who wants a book with the range to make them scream, laugh and say "eeew" all in about 100 pages.
I'd give it: 5 stars
Reviewed by: Cecily (Harrington Library)
---